Stardust Crusaders - Episode 2
Jump to navigation
Jump to search
Who Will Be the Judge?! (裁くのは誰だ!?, Sabaku no wa Dare da!?)[1] is the second episode of Stardust Crusaders and the twenty-eighth episode of JoJo's Bizarre Adventure: The Animation. It covers the second half of Chapter 117 to Chapter 119 and part of Chapter 120 of the manga.
DIO has returned from the depths of the ocean, having stolen Jonathan's body. Jotaro doesn't feel concerned by him yet but on the way to school, he encounters Noriaki Kakyoin, a Stand user sent to kill him.
Summary
On his way to school, Jotaro is suddenly attacked when a mysterious student in a green uniform swipes a paintbrush over a picture of Jotaro, causing his leg to be cut in the same location. Jotaro ends up falling down a large set of stairs, though he lessens the fall by grabbing onto a nearby branch with his Stand. The new student comes to Jotaro's aid with a handkerchief and reveals his name to be Noriaki Kakyoin.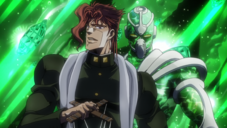 Later, Jotaro visits the nurse's office to have his wound treated but discovers the nurse had gone into a mad frenzy and stabbed one of the other students with a pen. On the handkerchief he had received earlier, Jotaro finds a message from Kakyoin stating that he will kill him, and moments later, Kakyoin appears at the window. Kakyoin reveals that he had used his Stand, Hierophant Green, to possess the nurse's body from the inside and uses it to force her to stab Jotaro. Jotaro drags Hierophant out of the nurse's body via his Stand. Once out, Kakyoin counterattacks with Emerald Splash, catching Jotaro off guard and sending him flying across the room. At that point, Jotaro declares that due to the invisible nature of Stands that he would be the one to judge Kakyoin and engages him. Jotaro is briefly trapped by Hierophant's tentacles, but easily deflects the attack and follows through with pummeling Hierophant Green until Kakyoin is rendered unconscious. Jotaro decides to take Kakyoin with him back to Joseph to get some questions answered regarding the attack and DIO.
Back at the Kujo Mansion, Joseph explains that Kakyoin's mind had been taken control by DIO and the culprit was a flesh bud attached to Kakyoin's brain.
Appearances
Stands

Credits
Staff
Episode Director Cooperation
(演出協力)
Assistant Chief Animation Director
(総作画監督補)
Assistant Animation Director
(作画監督補)
Assistant Action Animation Director
(アクション作画監督補)
中屋了
村司 晃英
横山 謙次
河村 涼子
坂上 怜司
阿形 大輔
山本 晃
小田 真弓
平野 勇一
前田 学史
濱川 修二郎
山田 雄一郎
次橋 有紀
岩村 洋輝
城ヶ 島譲
渡部 穏寛
松原 栄介
森田 実
才木 康寛
川田 栄三
杉江 敏治
今井 武志
西村 彩
ソエジマ ヤスフミ
Cha Myoung Jun
Choi Hee Eun
Shuhei Fukuda
Sae Akama
Hiroyuki Moriguchi
Shota Sugimoto
Sachiko Mori
Tomoji Tsuchiya
Kimitaka Ito
Megumi Tonegawa
Kumiko Kawahara
Natsuki Orikasa
Masami Gohda
Tomoko Higashiyama
Ai Yasui
Hiroto Nakagawa
Kentaro Tokiwa
Masahiko Komino
White Line
Sinaion
Studio GAO
Albion
Studio Mark
Studio Giants
福田 周平
赤間 紗枝
森口 弘之
杉本 将太
森幸 子
土屋 友次
伊藤 公祟
刀根 川恵
河原久美子
折笠奈津樹
合田真さ美
東山朋子
安井和
中川 裕人
常盤 健太郎
小美野 雅彦
WHITE LINE
SINAION
スタジオGAO
アルビオン
スタジオマーク
スタジオジャイアンツ
In-between Animation Inspection
(動画チェック)
In-between Animation
(動画)
David Production
Sae Akama
Takahiro Okawa
Makoto Yaguchi
Hiroyuki Moriguchi
Shota Sugimoto
Yusaku Nagahama
Yurie Hama
Rie Takahashi
Chie Nakagami
Aki Takeishi
赤間 紗枝
大川 貴大
矢口 真琴
森口 弘之
杉本 将太
長濱 佑作
浜 友里恵
高橋 梨恵
中神 智絵
竹石 亜希
---
White Line
Triple A
FAI
Eslite Animation
Rocket Vision
Trigger
Sakura Create
Rising Force
RIC
Hayashi
TAP
WHITE LINE
Triple A
FAI
誠品動画
ロケットビジョン
トリガー
作楽クリエイト
ライジングフォース
RIC
ハヤシ株式会社
TAP
Design Cooperation
(デザイン協力)
David Production
Kenichi Higaki
Aiki Watanabe
檜垣 賢一
渡辺 藍希
David Production
工藤 かよ
Puavaranukroh Taweeporn
Eyecatch Illustration
(アイキャッチ原画)
Music
Manga/Anime Differences
In the anime, there is an extra scene of Joseph Joestar and Muhammad Avdol having a tea ceremony.
A silhouette of Nukesaku can be seen along with Enya during her scene with DIO.
Original flashbacks of Jotaro are shown during his speech to Kakyoin.
Holy is originally shown doing chores while singing the 1962 pop song, The Loco-Motion by Gerry Goffin and Carole King. In the anime, this is replaced with her humming Aoi Sangoshou, a 1980 J-pop song by Seiko Matsuda.
In other languages
Language
Title
Translation
Japanese
裁くのは誰だ!?
Who Will Be the Judge?!
English
Who Will Be the Judge!?
Spanish
¡¿Quién será el juez?!
Who Will Be the Judge?!
Portuguese
Quem Vai Julgar?
Who Will Judge?
French
Qui rendra le jugement ?
Who Will Render the Judgment?
German
Wer wird der Richter sein?!
Who Will Be the Judge?!
Hebrew
מי יהיה השופט?!
Who Will Be the Judge?!
Arabic
!من سيكون الحكم؟
Who Will Be the Judge?!
Italian
Chi sarà il giudice!?
Who Will Be the Judge!?
Danish
Dommeren Er?
Who is the judge?
Polish
Kto będzie sędzią?!
Who will be the judge?!
Commentary
Gallery
References