Stardust Crusaders - Episode 15
Jump to navigation
Jump to search
Justice, Part 2
(正義 その2 Jasutisu Sono 2)
[1]
is the fifteenth episode of
Stardust Crusaders
and the forty-first episode of the
JoJo's Bizarre Adventure
anime
. It covers
Chapter 157
through the first half of
Chapter 160
of the
manga
.
After luring the heroes to her hotel, Enya the Hag singles out Polnareff and reveals her ability. Justice can turn anyone into a puppet if they are wounded and the Frenchman must hide from Enya's zombie horde.
Summary
Enya rushes to hide Hol Horse's body from Polnareff to avoid alerting the others, struggling to suppress her rage when Polnareff shows his appreciation of her "hospitality". However, Hol Horse, who is still alive, alerts Polnareff to an attack from Enya, who uses Justice's fog to control the dead civilians of the village like zombies. Retreating to a bathroom to hide from the zombies, Polnareff is hit by a surprise attack from the bathroom door's keyhole, allowing Justice to take control of his tongue.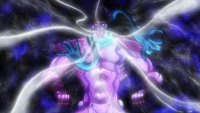 While making Polnareff lick the toilet in humiliation, Enya is approached by Jotaro, who has suspected something was amiss with her and sees through her ploy when she refers to him by his real name, as the group had all used fake names when signing the hotel ledger earlier. Enya manages to inflict a wound on Jotaro's leg, but Jotaro manages to overcome Justice's fog-like form by having Star Platinum inhale it, suffocating Enya until she passes out. With the village revealed to have been a cemetery the entire time, Jotaro suggests to the group that they take Enya with them to learn more about DIO, while Hol Horse makes off with their car, advising the group to kill Enya while they still can.
Appearances
Credits
Staff
Animation Director Cooperation
(作画監督協力)
Assistant Chief Animation Director
(総作画監督補)
Kouki Shikiji
Hitomi Shiroki
Takashi Hirabayashi
Michiyo Hirabayashi
Shuhei Fukuda
Hanawa Nishiogi
Hiromi Okazaki
Cha Myoung Jun
Hisashi Samejima
Yoshie Matsumoto
Kazunori Ozawa
Mihoko Ogawa
Dai Imaoka
Yoon Young Tai
Lee Eun Young
Manabu Imura
Hideo Nakamura
Kazuyuki Matsubara
Satoshi Iwataki
Yuzuru Jogashima
Yuta Tsuchiya
Chika Ishida
Hironori Sawada
Takeshi Imai
Airi Ishikawa
Shigemi Aoyagi
式地 幸喜
(Key)
白木 仁美
平林 孝
平林 美智代
福田 周平
西荻 貧
岡崎 洋美
Cha Myung Jun
鮫島 寿志
松本 淑恵
小澤 和則
大川 美穂子
今岡 大
Yoon Young Tai
Lee Eun Young
井村 学
中村 秀雄
松原 一之
岩瀧 智
城ヶ島 譲
土屋 祐太
石田 千夏
澤田 博範
今井 武志
石川 愛理
青柳 しげみ
赤間 紗枝
大川 貴大
合田 真さ美
折笠 奈津樹
河原 久美子
川添 亜希子
今井 翔太郎
片岡 恵美子
佐々木 舞
西村 彩
伊藤 公崇
石本 峻一
光田 史亮
WHITE LINE
Triple A
In-between Animation
(動画)
Digital In-Between AnimationDavid Production
Masato Ujibe
Makoto Yaguchi
宇治部 正人
矢口 真琴
---
David Production
Yusaku Nagahama
Rie Takahashi
Chie Nakagami
長濱 佑作
高橋 梨恵
中神 智絵
---
White LineSakura CreateTriple A
MSJ Musashino Production
Ace CompanySunlightAITAPBig Owl
WHITE LINE
作楽クリエイト
Triple A
MSJ武蔵野制作所
エースカンパニー
サンライト
AI
TAP
Big Owl
Design Cooperation
(デザイン協力)
Junko Nagasawa
Jun Ishigami
長澤 順子
石神 潤
David Production
工藤 かよ
Puavaranukroh Taweeporn
Eyecatch Illustration
(アイキャッチ原画)
Music
Manga/Anime Differences
A brief scene depicting Justice controlling a Polnareff-modeled marionette is added.
When Jotaro holds up the guestbook, an assortment of other names can be seen on a separate page (such as Fiona Wadsworth).
In other languages
Language
Title
Translation
Japanese
正義 その2
Justice, Part 2
English
Justice, Part 2
Spanish
La Justicia Parte 2
Justice, Part 2
Portuguese
Justiça - Parte 2
Justice - Part 2
French
Justice, Partie 2
Justice, Part 2
German
Die Gerechtigkeit, Teil 2
Justice, Part 2
Hebrew
צדק, חלק 2
Justice, Part 2
Arabic
العدل الجزء 2
The Justice Part 2
Italian
Justice Parte 2
Justice Part 2
Danish
Retfærdighed, Del et
Justice, Part two
Commentary
Commentary
"
This episode makes a pair with Episode 14, and Hirofumi Ogura is at the storyboard for both of them. He's accustomed to comedy and this second part is precisely full of comedic elements.
Unconsciously, Polnareff manages to stir Enya's hatred more than ever. He's excellent at this little game. Even if the hag knows that it's not provocation, he's constantly rubbing it in her face by mentioning her son.
I like the zombie horde, they are as creepy as can be, but the real great moment you can't miss is of course Polnareff licking the toilet. This scene had our full attention and necessitated a lot of planning. Some wanted to add a little poo inside the toilet bowl, or debate about the overall level of dirtiness (laughs).
But in the end, Jotaro intervenes and takes the situation in hand. And what an entrance. As expected of him, he only has to enter the scene for the tension to rise. It's almost as if he was annoyed by the Polnareff gags and had decided to get to business. Incidentally, Jotaro was technically the only one able to defeat her, wasn't he?
I loved seeing Joseph making fun of Polnareff like he did in the end of the episode. A real complicity had appeared inside the group and it shows. This is the kind of teasing that we only find within a genuine comradeship.
"
Gallery
Trivia
In JOESTAR RADIO episode 10, Daisuke Ono revealed that Unsho Ishizuka helped him maintain the "Ora ora ora" battle cry longer by telling him to relax the muscles between the shoulders and chest, and not to tense the shoulder muscles.
References