JoJo's Bizarre Adventure - Episode 6
Jump to navigation
Jump to search
"
The existence of pain is what allows one to feel joy. Is that what it means to be human...?
(

この痛みあればこそ、喜びも感じることができる。これが人間か……

)
"
Pluck for Tomorrow (あしたの勇気, Ashita no Yūki)[1] is the sixth episode of season one of JoJo's Bizarre Adventure: The Animation. It is also the sixth episode of Phantom Blood. It covers Chapter 29 through Chapter 33 of the manga.
Bruford is vanquished by Jonathan but Tarkus proves to be a tougher opponent and drives the heroes into a corner. At the same time, Will Anthonio Zeppeli recalls his master's prophecy about his ultimate fate.
Summary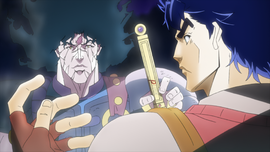 After having barely managed to avoid Jonathan's underwater overdrive, Bruford ensnares the protagonist with his hair once more. However, Jonathan manages to block Bruford's attack and channels an overdrive through a kick into Bruford's sword, which causes one of his arms to disintegrate. From here, Jonathan is able to escape, and unleashes a sunlight yellow overdrive barrage against him. As Bruford's body starts to disintegrate, he regains his human soul, feeling at peace and leaving JoJo his sword before completely disintegrating.
Tarkus steps forward, crushing the remains of Bruford beneath his feet before declaring his commitment to evil. Jonathan and Zeppeli manage to get Speedwagon and Poco to safety using a bunch of leaves as a hang glider. As they make their escape, Zeppeli recalls how he learned to control the Ripple from a man named Tonpetty. Incidentally, Tonpetty predicted a dire fate for Zeppeli.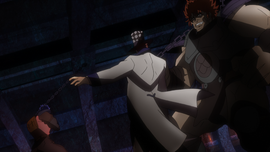 However, Tarkus leaps after them, causing them to touch down at a knight's training ground in order to stand against him. Tarkus manages to crash into one of the outer walls and enters the training grounds first. Jonathan is pulled inside the grounds, thrusting him into a Chain Neck Deathmatch, in which the two fighters have been bound by an iron shackle around the neck and one must decapitate the other in order to free himself. Unfortunately, Jonathan has trouble breathing because of the collar and Tarkus takes the advantage. Realizing Jonathan will be killed if no one does anything and remembering his sister's uplifting words, Poco overcomes his nerves and enters the grounds via a window, managing to unlock the door so Zeppeli can get inside. Zeppeli steps into the chamber and suddenly remembers Tonpetty's prophecy, which stated that he would die, but steel his resolve and prepare to meet his doom.
Appearances
Credits
Staff
Animation Director Cooperation
(作画監督協力)
Assistant Animation Director
(作画監督補)
Hiroko Kurube
Seok Pyo Hong
Kosuke Yoshida
Yumi Shimojo
Yuya Takahashi
Hitoshi Miyajima
空流辺 広子
ホン・ソクビョ
吉田 巧介
下條 祐未
高橋 優也
宮嶋 仁志
Tadashi Shida
Atsuko Sugawara
Katsunori Tanaka
Hitoshi Miyajima
Emiko Kataoka
Hiroki Goto
Hiroko Seigan
Katsuyuki Sato
Taeko Ogi
Ayumi Tsukishita
Koji Kataoka
Junichi Fukunaga
Seok Pyo Hong
Yuya Tsukada
Hideo Maru
Yuichiro Masuda
Arisa Kajiyama
San Kim
Koji Nobuhara
Mitsuhiro Nanbe
Koichi Nakaya
志田 ただし
菅原 敦子
田中 克憲
宮嶋 仁志
片岡 恵美子
後藤 洋輝
西願 宏子
佐藤 勝行
扇 多恵子
月下 歩
片岡 康治
福永 純一
ホン・ソクビョ
塚田 優哉
丸 英男
増田 雄一郎
梶山 亜里沙
キム・サン
延原 浩二
南部 允宏
中弥 幸一
Chiyo Imamaki
Mariko Kubo
Tomoko Shimizu
Fumina Nishino
Triple A
今牧 千世
久保 茉莉子
清水 智子
西野 文那
AAA
In-between Animation
(動画)
In-Between Animation Inspection
---
Triple A
Hayashi
Jumondo
Beep
AAA
ハヤシ株式会社
寿門堂
BEEP
Q-Tec
(キュー・テック)
Hirohisa Mita
Daiki Kitamura
Hiroki Ueno
Kouta Sato
Shouta Komatsu
Masaya Fujiwara
三田 寛久
北村 大輝
上野 洋樹
佐藤 滉太
小松 奨太
藤原 将也
David Production
亀井 隆広
工藤 かよ
Puavaranukroh Taweeporn
Music
Manga/Anime Differences
When Tarkus crushes the remains of Bruford's armor, the debris goes flying and damages Zeppeli in the process. This wasn't shown in the anime.
The scene after where Tarkus squeezes to death acquaintances of Poco and drinks their blood is not shown as well.
In other languages
Language
Title
Translation
Japanese
あしたの勇気
Pluck for Tomorrow
Chinese
明日的勇氣
Pluck for Tomorrow
English
Tomorrow's Courage
Spanish
El valor del mañana
The value of tomorrow
Portuguese
A Coragem do Amanhã
The Courage of Tomorrow
French
Courage du lendemain
Courage for the next day
German
Der Schneid von morgen
The Pluck of Tomorrow
Hebrew
האומץ של מחר
The Courage of Tomorrow
Arabic
شجاعة الغد
Tomorrow's courage
Italian
Il coraggio di domani
The courage of tomorrow
Czech
Odvaha zítřka
The Courage of tomorrow
Danish
Morgendagens mod
Tomorrow's courage
Polish
Odwaga jutra
The courage of tomorrow
Commentary
Gallery
References