Diamond is Unbreakable - Episode 1
Jump to navigation
Jump to search
Jotaro Kujo! Meets Josuke Higashikata
(

空条承太郎! 東方仗助に会う

,

Kūjō Jōtarō! Higashikata Jōsuke ni Au

)
[2]
is the first episode of
Diamond is Unbreakable
and the seventy-fifth episode of the
JoJo's Bizarre Adventure
anime
. It covers
Chapter 266
through
Chapter 269
of the
manga
.
In the year 1999, Jotaro travels to the quiet Japanese town of Morioh to find Joseph's bastard son Josuke Higashikata and warn him about an incoming threat.
Summary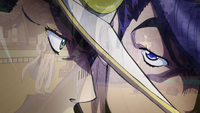 It is a typical, peaceful morning in the town of Morioh. While listening to Morioh Town Radio, an unseen killer is cooking breakfast with a woman's severed hand. 12 years after the fight with DIO, Jotaro is seen looking for someone with the last name Higashikata. He bumps into a student named Koichi Hirose then sees a freshman named Josuke Higashikata being bullied by some seniors although he appears to take it in stride without breaking composure. Josuke's kind, tolerant attitude persists until the senior disrespects his hairstyle, and Jotaro is surprised to witness Josuke using a Stand to strike and badly injure the delinquent's face only for it to be restored, if deformed, and scares the bullies away.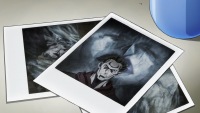 Jotaro confronts Josuke and reveals that he is the bastard son of Joseph Joestar, and says that he is entitled to a share of Joseph's inheritance. However, Josuke only wants to reassure his estranged father that he and his mother are fine. A short fight ensues when Jotaro inadvertently insults Josuke's hairstyle. Josuke reveals his Stand Crazy Diamond. As a barrage of punches ensues, Jotaro is forced to stop time for half a second to get behind Josuke and knock him unconscious momentarily. Jotaro resumes his conversation and begins speaking about Anjuro Katagiri, a criminal possessing a Stand for unknown reasons who has recently escaped, and Jotaro is looking for him. Josuke and Koichi then go to school.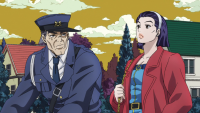 Meanwhile, Josuke's mother and grandfather Tomoko Higashikata and Ryohei Higashikata talk about Josuke and at the same time, an unknown man does something to a passerby. At the end of the day, Josuke and Koichi observe a hostage situation committed by the same man the unknown person met earlier. The robber insults Josuke's hair, antagonizing him. Josuke then attacks the robber by using his Stand to punch through both him and his hostage, grabbing the knife as he does. He leaves the knife inside of the robber when he heals both, and a liquid-based Stand emerges from the robber's body before sliding into the sewer. Meanwhile, at the Higashikata estate, Anjuro dons the guise of a milkman and vows to murder Josuke and his family for interfering in his plans.
Appearances
Stands


Credits
Staff
Action Animation Director
(アクションディレクター)
Mechanical Animation Director
(メカ作画監督)
Takashi Tanazawa
Kazuhiko Shibuya
Natsue Chibayama
Haru Watanabe
Makoto Yaguchi
Ryuji Tsuzuku
Aiko Sonobe
Masami Gohda
Hiroaki Imaki
Tetsuro Taira
Mihoko Ogawa
Marie Ino
Manabu Shiota
Ryo Yamauchi
Yoko Uchida
Yu Matsuo
棚沢 隆
渋谷 一彦
千葉山 夏恵
渡邊 葉瑠
矢口 真琴
都竹 隆治
薗部 あい子
合田 真さ美
今木 宏明
平良 哲朗
大川 美穂子
井野 真理恵
塩田 学
山内 遼
内田 陽子
松尾 優
Sayaka Anesaki
Yuri Yamamura
Tsuyoshi Kando
Mapo Sama
Shuhei Fukuda
Kasumi​ Takeuchi​
Nana Yamazaki
姉崎 早也花
山村 有理
菅藤 剛
狭間 麻婆
福田 周平
竹内 花純
山崎 菜奈
White Line
Park Jin Hee
Park Soo Kyung
Kwan Hyun Ae
Park Jin Hee
Park Soo Kyung
Kwan Hyun Ae
In-between Animation
(動画)
Dr.Movie
Anik
Dr.Movie
ANIK
White Line
Byun Jin Sun
Shin Jin Eun
Yang Hyo Jung
Jeong Min Jeong
Kim So Im
Park Hee Jeong
Sim Kyoung Eun
Choi Mi Gyoung
Byun Jin Sun
Shin Jin Eun
Yang Hyo Jung
Jeong Min Jeong
Kim So Im
Park Hee Jeong
Sim Kyoung Eun
Choi Mi Gyoung
Design Cooperation
(デザイン協力)
Background Line Art
(美術設定)
Background Line Art Cooperation:
Eyecatch Illustration
(アイキャッチ原画)
Music
Manga/Anime Differences
A new scene is included, showing an unseen murderer using a woman's severed hand to make themselves breakfast.
Jotaro is depicted traveling to Morioh in a taxi.
A few extra scenes detailing Angelo's past are added.

However, Jotaro describing the molestation, kidnapping, and murder of three young boys is omitted. This scene is instead included in the next episode.

A scene involving Ryohei helping an elderly woman is added.
When Tomoko is complaining about Josuke's temper, Ryohei doesn't say he gets it from her.
The meeting of Angelo, the Robber, and the Robber's girlfriend is depicted.
Silhouettes of the Nijimura Brothers, Yukako Yamagishi, Toshikazu Hazamada and Rohan Kishibe can all be spotted among the crowd of bystanders witnessing the robbery of Sun-Mart.
In other languages
Language
Title
Translation
Japanese
空条承太郎! 東方仗助に会う
Jotaro Kujo! Meets Josuke Higashikata
English
Jotaro Kujo! Meets Josuke Higashikata
Spanish
¡Jotaro Kujo! El encuentro con Josuke Higashikata
Jotaro Kujo! The Meeting With Josuke Higashikata
Portuguese
Jotaro Kujo! Conhece Josuke Higashikata
Jotaro Kujo! Meets Josuke Higashikata
French
Jotaro Kujo rencontre Josuke Higashikata !
Jotaro Kujo Meets Josuke Higashikata!
German
Jōtarō Kūjō! Trifft Jōsuke Higashikata
Jotaro Kujo! Meet Josuke Higashikata
Hebrew
ג'וטרו קוג'ו! פוגש את ג'וסוקה היגשיקטה
Jotaro Kujo! Meets Josuke Higashikata
Arabic
جوتارو كوجو! يلتقي بجوسكي هيغاشيكاتا
Jotaro Kujo! Meets Josuke Higashikata
Italian
Jotaro Kujo! L'incontro con Josuke Higashikata
Jotaro Kujo! The Meeting With Josuke Higashikata
Polish
Jotaro Kujo spotyka Josuke Higashikatę
Jotaro Kujo meets Josuke Higashikata
Commentary
"
I was in charge of the storyboard for this first episode.
Part 4 and Part 3 are very different in nature, and the question came down to how we could "change the flavor" of the show. Because of this, I needed a whole month to finish the storyboard (bitter smile). We also had to rethink how to manage the colors in general.
The opening scene directly presents what the audience may guess will be Kira. This scene was made to be as natural as possible, just a simple preview of the oncoming storm. Since episode 1 only revolves around the cast, there aren't a lot of major events, and nothing has been resolved. However, thanks to the strength of the original manga, nothing stagnates and everything flows naturally toward episode 2. In terms of directing, I tried to give off the rhythmic feeling of a Music PV through rapid shot sequences. I think that overall, we've started off strong, don't you think?
Morioh Radio's jingle was discovered by
Yasuko Kobayashi
, the writer. She was looking for "this little something that would be pervasive to the whole town", and she found it. It really gets stuck in your head, it's crazy (laughs)! I hope this was a good surprise for you too during the broadcast.
"
Gallery
Trivia
This is the first anime episode to feature an ending preview without a character narration or clips of the next episode, instead the preview was uploaded to the official website.

In addition, this is also the first episode to feature a radically different design and look to the ending preview.

As the cab driver passes a radio tower, he mentions that he always gets a good signal once he gets past it. This could possibly be a foreshadowing reference to Super Fly.
References