Reki Taki
Jump to navigation
Jump to search
Reki Taki (滝 れーき, Taki Rēki) is a Japanese manga artist credited for his work on the TV adaptation of Stardust Crusaders, Diamond is Unbreakable, Golden Wind, and Stone Ocean by David Production. He was one of Hirohiko Araki's assistants during Battle Tendency and Stardust Crusaders.[3]
Biography
Reki Taki became an assistant of Araki when he was 20 years old in around May 1988. He was already interested in joining the industry and primarily became motivated after seeing the way Araki draws his backgrounds. However, he had difficulty doing his tasks when he just started and was often scolded by Araki.
After one year and three months, he resigned from being an assistant. By sheer coincidence over two decades years later, he got involved with JoJo's Bizarre Adventure: Stardust Crusaders. From then on, he has been employed to work in the following anime seasons and the Thus Spoke Kishibe Rohan OVA, primarily as a background artist.[4]
Taki's profession consists primarily of drawing dojinshi, particularly Japanese Adult comics. Co-produced alongside his partner Hirohisa Onikubo (previously Araki's chief assistant), the two distribute dojinshi to various outlets.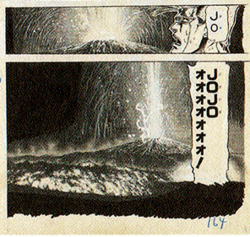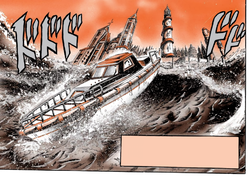 Credits
Interviews

Published November 18, 2021
👤 Reki Taki
"
How was your experience with Araki-sensei? Did you enjoy working with him?
I started working as an assistant to Araki-sensei when I was 20 years old, around the time of JoJo "Part 2". It was definitely a very fun job. I was happy to be in the industry that I had always dreamed of. ✨
However, I was still an amateur back then so I had a hard time doing my tasks. 💦
Backgrounds bear an important role in presenting the world of the work, particularly in JoJo. I was desperate to learn the job. Araki-sensei often scolded me. 😅
In the end, I retired from the JoJo manga after 1 year and 3 months. I had a lot of hardships, but it's been immensely useful for me now‼️😊
How do you feel about your contributions to the JoJo anime? How did this experience affect you?
It was by sheer coincidence that I got involved in the JoJo anime… but it was like a "return match" for me‼️✨
Am I still capable of drawing backgrounds for JoJo? How would I draw them after it's been so long? Those are the kinds of thoughts I had while working. I resigned from being an assistant for the original work halfway through, so I'm glad to be able to contribute to the JoJo series through the anime now. 😊 I'm learning a lot. ✨
Do you enjoy working on "Stone Ocean"? What episodes has your work been featured in?
Of course, working on Stone Ocean is fun‼️ Although since it takes place in the closed space of a prison, it sometimes feels oppressive to draw compared to the backgrounds of Morioh Town in Part 4 or Naples in Part 5. 💦
I've been working with the other background line art staff to draw the backgrounds for various parts of Green Dolphin Street Prison. So, the places that I was in charge of appear nearly all the time. 😊
Do you have any plans to work on other works by Araki-sensei in the future?
That's still undecided. I'd definitely do it if I ever get the chance to work on JoJo, Rohan, or anything else‼️
Who are your favorite JoJo characters?
That's hard to say. 💦
Part 1: Jonathan and Speedwagon
Part 2: Joseph, Caesar, Esidisi, and Straizo
Part 3: Old Joseph and Polnareff
Part 4: Josuke and Okuyasu
Part 5: Mista and Fugo
Part 6: Ermes
…I think that's about it⁉️😊
Please tell us what you like about JoJo.
This is another tough question. 🤔
I've been a fan since the first and second parts of the manga, so…
In the early days, they were profound stories
Impactful character drawings
Massive setting supporting the story's atmosphere
I was fascinated. I was particularly drawn to the way Araki-sensei drew his backgrounds, which was a major motivation for me to become his assistant‼️
In Part 3 and beyond:
Unique characters
Bizarre ideas for Stands
Presented with a cinematic feel (which has been carried out since the beginning)
I guess that's the gist of it⁉️ Of course, JoJo still has an endless amount of charm‼️😆
Have you ever been to Italy? Would you like to go there? I've never been to Italy. 💦
I want to visit there someday‼️✨
"
[Translated by
Vish
(JoJo's Bizarre Encyclopedia)]
[8]
"
荒木先生の体験談はいかがでしたか?彼との仕事は楽しかったですか?
私が荒木先生のアシスタントに入ったのは20歳の時、ジョジョが「第2部」の頃です。勿論とても楽しい仕事でしたよ。憧れの業界に入れて嬉しくもありました ✨
しかし当時の私はまだアマチュア、素人同然でしたので仕事は大変でしたね 💦
特にジョジョは、作品世界の表現に背景も重要な役目を担っていましたから。仕事を覚えるために必死でした。荒木先生にもよく叱られましたよ😅
結局、ジョジョには1年3ヶ月おりました。 つらい事も多々ありましたが、それが今の自分に大変役立っています‼️😊
ジョジョのアニメに貢献した感想は?この経験はあなたにどのような影響を与えましたか?
ジョジョアニメに関わる事になったのは、本当に偶然からなのですが…私にとっては「リターンマッチ」でしたね‼️✨
自分には今でもジョジョの背景を描けるのか?、今ならどう描くのか?を考えながら作業をしていました。原作のアシスタントは今ひとつ中途半端なところで辞めてしまったので、現在アニメで『ジョジョ』という作品に貢献出来ているのは嬉しいですね😊 勉強にもなりますし✨
「ストーンオーシャン」での作業は楽しいですか?あなたの作品はどのようなエピソードで紹介されていますか?
「ストーンオーシャン」の仕事は勿論楽しいです‼️ 『刑務所』という閉鎖された空間の中なので、4部の杜王町や5部のネアポリスよりも描いていて圧迫感を感じる時もありますが💦
他の美術設定担当の方と分担して、グリーン・ドルフィン・ストリート刑務所内各所の設定画を描いています。ですから、私が担当した場所はほぼ毎回出て来ます😊
今後、荒木先生の他の作品に取り組む予定はありますか?
まだ未定です。「ジョジョ」や「露伴」他、機会があれば是非やりたいです‼️😊
好きなジョジョのキャラクターは誰ですか?
難しいですねぇ 💦
1部ならジョナサンとスピードゴン
2部からジョセフ、シーザー、エシディシ、ストレイツォ
3部では老ジョセフ、ポルナレフ
4部は仗助、億泰
5部はミスタ、フーゴ
6部はエルメェス
…あたりでしょうか⁉️😊
ジョジョの好きなところを教えてください。
これも難しい質問ですね 🤔
私は第1部、2部の頃からのファンなので、
初期の「重厚な物語」
迫力ある人物作画
物語の雰囲気を支える重厚な背景
に魅せられました。特に「背景」の描き方に惹かれた事が、荒木先生のアシスタントに入る大きな動機となりました‼️
第3部以降では
個性的なキャラクター
スタンドの奇抜なアイディア
(初期の頃から貫かれてきた)映画的な演出
こんなところでしょうか⁉️ 当然、まだまだ他にも、ジョジョの魅力は尽きません‼️😆
イタリアに行ったことがありますか?訪れてみたいと思いませんか? イタリアに行った事はありません 💦
いつか訪れてみたいですね‼️✨
"
Gallery
TV Anime Screenshots (原画)
Backgrounds (背景原画)
Line Art / Key Animation (原画)
Personal Art (Property of Reki Taki)
Trivia
References