Reki Taki
Jump to navigation
Jump to search
Reki Taki (滝 れーき, Taki Rēki) is a Japanese manga

artist credited for his work on the TV adaptation of Stardust Crusaders, Diamond is Unbreakable, and Golden Wind by David Production. He was one of Hirohiko Araki's assistants during Battle Tendency and Stardust Crusaders.[1]
Taki's profession consists primarily of drawing dōjinshi

, particularly Japanese Adult comics

. Co-produced alongside his partner Hirohisa Onikubo (鬼窪浩久, Onikubo Hirohisa) (previously Araki's chief assistant), the two distribute dōjinshi to various outlets.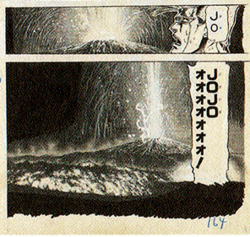 Works
JoJo's Bizarre Adventure: Stardust Crusaders[2][3]

Background Line Art
Ending Animation Background Line Art (ED 1, ED 2)
Falcon Illustration (ep 38)
Doll Illustration (eps 40, 42)
The World Illustration (ep 47)

JoJo's Bizarre Adventure: Diamond is Unbreakable

Background Line Art Cooperation (ep1)
Ending Animation Background Line Art (ED 1)
Opening Animation Background Line Art (OP 1-2)
Album background line art (OP 2)
Design cooperation (eps 11-12)
Rohan manuscript production (eps 14-15, 39)
Eyecatch Illustration (ep 27)
Mechanical Animation Director (eps 28-29)
Prop Animation Director (ep 38)

JoJo's Bizarre Adventure: Golden Wind

Background Art
Key Animation (eps 14, 25, 38-39)
2nd Key Animation (eps 34-35)
Opening Animation Key Animation (OP 1, OP 2)
Ending Animation Key Animation (ED 2)
Ending Animation Background Line Art (ED 1)
Assistant Animation Director (ep 35)
Eyecatch Illustration (eps 6, 11, 16-17, 19, 21-24, 27, 30-31, 33, 39)

Thus Spoke Kishibe Rohan (OVA)

Key Animation (ep 9)
Background Art Cooperation (ep 5)
Background Art (ep 2)
Gallery
TV Anime Screenshots (原画)
Backgrounds (背景原画)
Line Art / Key Animation (原画)
Personal Art (Property of Reki Taki)
References