Oingo/es
Jump to navigation
Jump to search
"
¡Nuestras cartas son el dios del conocimiento 'Tohth' y el dios de la creación 'Khnum' ! Somos los hermanos Oingo Boingo !!!!
"
"Oingo" (オインゴ) es un antagonista menor que aparece en la tercera parte de La Extraña Aventura de JoJo, "Cruzados de polvo de estrellas, específicamente el "Arco de la historia de 'Khnum' Oingo y 'Tohth' Boingo
Como parte de los 9 dioses de la gloria de Egipto, intenta asasinar al Grupo Joestar junto a su hermano perqueño Boingo.
Aparencia
Oingo es un joven alto de complexión musculosa, cabello oscuro y rostro alargado. Su atuendo consiste en una camiseta con una versión estilizada de su nombre, sobre la cual viste una chaqueta, jeans y una gorra con visera extragrande. En el anime, su camiseta tiene una versión estilizada de su Khnum.
Esquemas de color
The series is known for alternating colors between media, the information presented below may or may not be canon.
Hat
(Green with yellow visor)
Upper outfit
(Tan sleevless coat with blue underside, indigo shirt with pink letters, tan gloves)
Lower outfit
(Blue jeans, black belt with gold buckle, black shoes)
Outfit
(Auburn hat with orange visor, white coat, red shirt with white letters)
Hat
(Green with orange visor)
Outfit
(Light blue coat, salmon shirt, blue jeans, brown gloves and belt with silver buckle)
Khnum shirt design
(Orange, blue, green, and velvet)
Personalidad
Como todos los sirvientes de DIO, Oingo es un personaje malvado, aunque es una forma más mezquina que la mayoría. Es un asesino y, por tanto, no tiene ningún problema en intentar asesinar a los héroes. De una manera más liviana, Oingo también es lo suficientemente mezquino como para molestar a personas más débiles que él y cuando se sintió frustrado porque un intento de asesinato salió mal, golpeó a un hombre al azar en la calle cuya cara lo enfureció y felizmente tomó su billetera caída con él.
Oingo tiene una confianza inquebrantable en la combinación de su Khnum y Tohth, lo que les permite organizar asesinatos fácilmente. Sin embargo, durante su arco de aparición, un golpe de mala suerte volvió la combinación en su contra. Por lo tanto, Oingo tuvo que enfrentar la perspectiva de ser víctima de su propia bomba ya que estaba atrapado en un automóvil disfrazado de Jotaro y con Polnareff y Joseph impidiéndole que volviera a disfrazarse. Podría decirse que Oingo mostró cierto nivel de determinación al tratar de mantener su disfraz mientras trataba de escapar, pero en la mano reconoció la derrota y pensó que matar a los héroes era imposible.
Oingo tiene una relación muy cercana con su hermano Boingo y es protector con su tímido hermano pequeño. Manteniéndolo cerca, Oingo le dice que hay muchos hombres malos por ahí (lo cual es irónico porque trabajan para DIO). Cuando Boingo decide vengarse y matar a los cruzados solo, Oingo se enorgullece del crecimiento espiritual de Boingo.
Habilidades
Main article: Khnum
Khnum le confía a Oingo que remodele su apariencia, su voz e incluso su olor. Esto le permite ponerse varios disfraces cuando intenta asesinar a sus objetivos.

Historia
Oingo aparece por primera vez cerca del templo de Abu Simbel. Amenaza a un mangaka que se ha acercado a su hermano pequeño Boingo y que quiere comprar su Tohth. Boingo le muestra una predicción de su cómic que muestra la muerte de dicho artista de manga, y Oingo adivina que el próximo autobús que sale hacia Asuán se va a estrellar. Luego esperan pacientemente el próximo autobús.
En Asuán, Boingo predice que Jotaro, Joseph y Polnareff entrarán en un café y beberán té envenenado. Con su plan listo, Oingo golpea la cafetera en cuestión, toma su lugar y espera a que lleguen los héroes. El trío viene discutiendo el peligro que corren en cada momento. Polnareff luego decide tirar su cigarrillo y elige el café que ella señala, lo que los lleva a Oingo.

Inicialmente, el grupo decide pedir té, pero Joseph Joestar, sospechoso, decide pedir la coca sin abrir. Esto parece evitar que Oingo envenene la bebida al principio, pero un cliente enojado reacciona a la coca caliente que le sirvieron, lo que hace que el grupo Joestar ordene el té que Oingo envenena con éxito.
Justo cuando el grupo está a punto de tomar su té, Iggy se come el pastel de otro cliente y hace que el grupo Joestar abandone su té para cuidar de Iggy y se vaya de la tienda, lo que enfurece a Oingo y Boingo. Finalmente, siguiendo la profecía de Tohth, Oingo golpea a un extraño de aspecto nerd y lo asusta para que deje caer su billetera, dándoles dinero a los dos y pacificándolos temporalmente por su fracaso.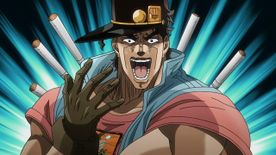 Siguiendo la siguiente predicción de Tohth, Oingo intenta hacer que Jotaro se coma una bomba que parece una naranja. Sin embargo, Joseph y Polnareff regresan y Oingo se ve obligado a disfrazarse de Jotaro para evitar que lo ataquen. El disfraz fracasa y Oingo es arrastrado al mismo auto donde colocó la bomba.
Oingo inicialmente trata de prevenir la bomba tirándola por la ventana, pero Iggy busca la bomba y la trae de vuelta al auto. Polnareff luego demuestra un truco del cigarrillo, en el que deja caer un cigarrillo en su boca, y con calma exhala el humo, y le pide a "Jotaro" que le muestre el truco con cinco cigarrillos. Oingo logra el truco, pero falla cuando se ve obligado a probarse a sí mismo bebiendo el jugo mientras los cigarrillos arden. El resultado hace que lo escupe, y su estómago finalmente se vuelve paranoico de que Joseph y Polnareff lo estén probando en secreto para ver si realmente es Jotaro. Polnareff decide competir con "Jotaro" en comer naranjas más rápido, pero Oingo, al darse cuenta de que la naranja que Polnareff recogió era la bomba, le impide hacerlo y sugiere que, dado que la "naranja" fue recogida por Iggy, podría haber estado contaminada. en cualquier tipo de lugar insalubre.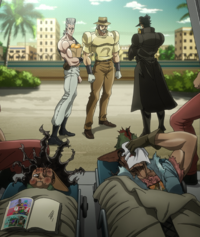 Harto de tener que lidiar con Joseph y Polnareff, Oingo corre hacia las rocas para escapar, usando un descanso en el baño como excusa, y decide escapar cambiando su apariencia detrás de las rocas nuevamente. Sin embargo, Polnareff, considerando la verdad de la declaración de "Jotaro", arroja la bomba disfrazada fuera del auto. Oingo luego pisa accidentalmente la bomba, lo que hace que explote y le parta la cara en dos.
Boingo llega y decide derrotar al grupo Joestar por su cuenta, lo que hace que Oingo se sienta orgulloso del crecimiento de su hermano menor. Sin embargo, el hombre al que atacaron antes regresa con otros matones, que golpean a los dos hermanos y los envían al hospital. Mientras tanto, el verdadero Jotaro regresa de visitar el hospital y, al tener sed, elige una naranja para comer.
Oingo es mencionado más tarde por Hol Horse, quien convence a Boingo para que lo ayude y le pregunta si no quiere vengar a su hermano. Hol Horse dijo que Oingo estuvo un mes más en el hospital debido a sus heridas por la bomba naranja.
Capítulos / Episodios

Manga Appearances
Chapters in order of appearance

Anime Appearances
Episodes in order of appearance
Quotes

Quotes
"

Brother, together we are invincible. With your book that can predict the future and my face Stand...we can beat them all!! Our cards are the god of books, Tohth, and the god of creation, Khnum! We are the Oingo Boingo brothers!!!

"
Video Games
Oingo and Boingo are reduced to a supporting role in the game, and they don't use their respective Stands at all.
Oingo's own appearance is never featured in game, only illustrations of him by the Stand Tohth (the Gallery Mode).

Oingo

Shape-Shifting Transformation Ability ver.
Rarity:

Max Power: 1198

Favorite Gift and Voiced Gift Reactions:

Skill: Khnum

Replaces up to a certain number of Oingo panels with enhanced partner panels If there aren't sufficient Oingo panels, he'll instead replace random cheer panels with partner panels

Skill Lv 1
# of Replaced Panels:
4
Cooldown:
80

Skill Lv 2
# of Replaced Panels:
6
Cooldown:
80

Skill Lv 3
# of Replaced Panels:
6
Cooldown:
75

Skill Lv 4
# of Replaced Panels:
10
Cooldown:
75

Skill Lv 5
# of Replaced Panels:
10
Cooldown:
70
Gallery
Trivia
Due to copyright laws, Oingo and Boingo were renamed Zenyatta and Mondatta respectively in the VIZ translation, after The Police album of the same name. In the anime, however, they are still referred to by their Japanese names on Tohth's cover.

Their original names were later used in VIZ's English JoJonium release.
References
↑ N'Doul's Geb - Vol.6 "Shueisha Jump Remix Stardust Crusaders Edition" P132 The Secret of JOJO Characters