Jonathan Joestar ★ Videojuegos
Jump to navigation
Jump to search
Un resumen de la historia y movimientos de Jonathan Joestar en los videojuegos.

[edit]
Jonathan es el personaje jugable principal en este juego. A lo largo del juego, el jugador controlará muchas versiones diferentes de él con movimientos extremadamente distintos.
Movimientos
El jugador empieza el modo Historia como Jonathan Joven, defendiendo a Erina Pendleton de los matones acosándola. Aquí, sus movimientos solo consisten de golpes y patadas. Mientras que en el manga Jonathan perdió esta pelea, el juego incluye una escena alterna si el jugador derrota a los matones, donde él ayuda a Erina a levantarse solo para ser derribado cuando los matones se enteran de quien es él.
This version of Jonathan fights against a young Dio in Chapter 03, attacking in a fury over what Dio did to Erina.
Jonathan Joestar (Young)









Running

Running


Available Stages: Chapters 01, 03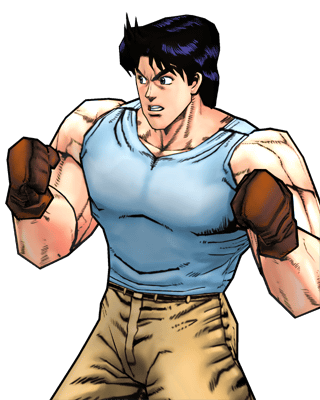 Chapter 02 features Jonathan in boxing gear for a match with Dio. Much like the previous level, the player can change how the fight went from the manga by having Jonathan beat Dio, although the resulting scene has Dio turn everyone against Jonathan anyway by claiming he put a rock in his glove.
Jonathan Joestar (Boxing)









Running

Running


Available Stages: Chapter 02
Jonathan becomes an adult and unlocks kicking techniques in Chapter 04 as he confronts Dio over Dario's letter and his father's symptoms. This version of Jonathan battles Speedwagon and his two accomplices in Ogre Street, and later confronts a vampiric Dio atop the roof of the burning Joestar Mansion.
Jonathan Joestar (Adult)










Passionate Roundhouse Kick




Running

Running


Available Stages: Chapters 04, 05, 07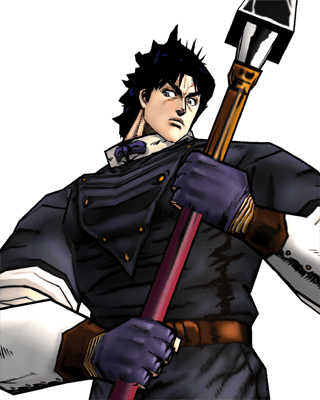 When the player fights the newly-made vampire Dio in Chapter 06, Jonathan utilizes a spear, though he loses it after the stage's completion.
Jonathan Joestar (Spear)









Running

Running


Available Stages: Chapter 06
The battle with Wang Chan is the first time Jonathan possesses
Ripple
abilities, allowing him to destroy vampires and zombies, counter attacks, and temporarily increase his stats. Jonathan also gains the Sunlight Yellow Overdrive special move. The player controls this version of Jonathan for most of the game, as he battles Jack the Ripper, Dio's zombies, Bruford (on land), Tarkus, Adams, Doobie, and finally Dio himself.
Jonathan Joestar




















Running

Running



during damage

(LV 0-3)

Sunlight Yellow Overdrive














Available Stages: Chapters 08, 10, 11, 12, 14, 17, 18, 19, 20, 22, 23 (Alternate)
Story Mode Replay: Chapters 15, 21
77 Rings Knights Mode: Ripple Warriors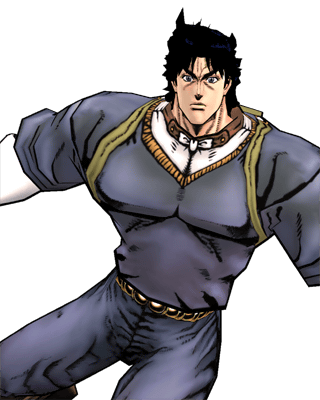 Jonathan unlocks the Turquoise Blue Overdrive special move to use against Bruford in the underwater first battle against him; landing Turquoise Blue Overdrive plays a cutscene and ends the battle.
Jonathan Joestar (Underwater)











Available Stages: Chapter 13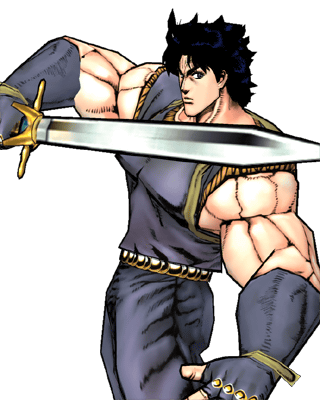 In Chapter 21, Jonathan wields the sword of Luck and Pluck, which grants him the Metal Silver Overdrive special.
Jonathan Joestar (Luck and Pluck)









Running

Running



during damage

(LV 0-3)






Available Stages: Chapter 21
77 Rings Knight Mode: Ripple Warrior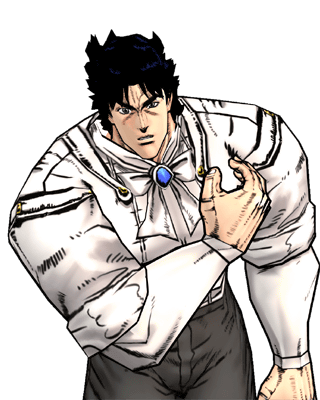 The final chapter has the player control a fatally wounded and dying Jonathan, recreating the final scene of Part 1, with very little mobility and no access to his counter or stat increases. Upon landing Jonathan's Final Ripple, a cutscene will play and the battle will end.
Jonathan Joestar (Wounded)






















(LV 0-3)

Available Stages: Chapter 23
Jonathan regresa como personaje jugable en el juego de PS3. Él fue confirmado junto con Will Anthonio Zeppeli y Johnny Joestar. Como personaje Usuario del Hamon (junto con Will, Joseph [Partes 2 y 3], Caesar y Lisa Lisa), Jonathan puede recargar su Indicador Heart Heat a través del "Respiro Hamon" manteniendo el botón de Estilo, realizando una famosa pose de JoJo, así como asestar versiones mejoradas de sus habilidades si Estilo es pulsado en lugar de los botones de ataque normales.
Costumes
Los movimientos de Jonathan se constituyen mayormente de movimientos basados ​​en Hamon que había usado en el manga original.
Jonathan's moveset mostly comprises of the Ripple-based moves he had used in the original manga.
Tacleada: Jonathan embiste con el hombro al frente. Si no es bloqueado, el oponente es enviado a la pared del escenario. Todas y cada una de las habilidades de Jonathan se pueden realizar instantáneamente siguiendo este movimiento, aunque el Scarlet Overdrive tiene la mejor probabilidad de asestar.
Jonathan tiene muchas vestimentas alternas, todas tomadas de cada una de las 5 portadas de los volúmenes en los que él aparece. Aparte de los personajes de la Parte 1, Jonathan tiene una intro special con la encarnación de la Parte 3 de DIO, donde Jonathan expresa horror a que Dio aparentemente vuelva a estar vivo mientras que DIO comenta que la aparición de "JoJo" ante él posiblemente sea "un desafío del pasado."
Jonathan fue confirmado para el juego junto a Zeppeli y Speedwagon.
La mayoría de sus movimientos y modelo de personaje quedan igual que en All-Star Battle. Nuevas adiciones a los ataques de Jonathan incluyen a él usando la lanza con la que atacó a Dio poco después de su transformación como un Ataque Poderoso. Varios de sus nuevos combos y evasiones ahora están basados en sus habilidades de boxeo (demostradas durante su infancia en la Parte 1).
Como Usuario del Hamon, Jonathan tiene un Indicador de Hamon que determina la fuerza de sus ataques. Llenar el indicador automáticamente potenciará sus Ataques Normales y Poderosos, y mejorará/alterará las propiedades de todas sus habilidades. También reducirá el tiempo de enfriamiento de dichas habilidades. Usar habilidades vaciará una porción del Indicador de Hamon hasta que haya una cantidad insuficiente para usarse.
Style/Other
Ripple Breath

ON GROUND CHARGEABLE
Jonathan performs a pose and Ripple Breathes, filling up the Ripple Gauge. He cannot move and is vulnerable to attacks while doing so. Filling up the gauge will automatically empower his Normal and Powerful Attacks, and enhance/alter the properties of all his skills. It will also shorten the cooldown time on said skills. Using skills will drain a portion of the Ripple Gauge until there's an insufficient amount to use.
My Final Ripple...
ON GROUND
When Jonathan health hits zero for the first time, if his partner is still alive, he will be granted a decent portion of continuously draining health to continue on. All attacks and skills are unusable, leaving Jonathan with a special final attack in which he attacks with crossed fingers, dealing considerable damage. Once his health reaches zero once more, or if he successfully lands his final attack, Jonathan will finally be Retired.
Skills
Zoom Punch!

+

ON GROUND
Jonathan slides forward and extends his arm to punch at medium range. If Ripple-enhanced, the skill will execute quicker and allow Jonathan to continue attacking from it.
Overdrive Barrage!

+

IN AIR OK ON GROUND
Jonathan slides forward and unleashes a short flurry of punches ending in an uppercut. The last hit will send opponents flying. If Ripple-enhanced, the skill will execute quicker, unleash more punches, and receive a damage boost. The skill can be used in mid-air, and its damage is dependent on the how much of the Ripple Gauge is filled.
Sendo Ripple Overdrive!

+

/ EX

+

EX SKILL TRAP ON GROUND
Jonathan punches the ground and sends his Ripple spreading out over a wide area, damaging and crumpling opponents caught. If Ripple-enhanced, the skill will execute quicker, have a larger area of effect, and receive a damage boost.
EX Version: Jonathan will be invincible when first executing the skill. The Ripple wave will be unblockable, and Jonathan's recovery time from the skill is reduced as well, allowing him to follow up. This is in addition to other benefits granted by the Ripple Gauge.
Who'll be the Last One Standing!

+

/ EX

+

EX SKILL ON GROUND
Jonathan spins as his hands are engulfed in flames, before diving forward, both fists extended. If an opponent is hit, the two-handed strike will hit them in the abdomen. Jonathan then pulls one fist back before punching them off, sending them flying as he very briefly turns around and looks down. If Ripple-enhanced, the skill makes Jonathan invincible during its execution, receives a damage boost, and the speed and distance of the dive is increased. The skill's damage is dependent on how much of the Ripple Gauge is filled.
EX Version: The skill will execute even quicker than when Ripple-enhanced, has increased speed and distance of the dive, make Jonathan invincible while he is diving, and receives a damage boost. This is in addition to the damage benefits granted by the Ripple Gauge.
Dual Heat Attacks
Sunlight Yellow Overdrive! (Solo)

+

ON GROUND
Jonathan executes the very move that he used to defeat Bruford beginning with a very fast kick. If the kick lands, the opponent is hit in the abdomen, before Jonathan proceeds to pummel them at different angles and knocking them into the air, all while reciting his signature lines. After charging an immense amount of Ripple energy, Jonathan unleashes a rapid flurry of punches into the opponent as they fall towards him, ending with them spiraling away after a two-handed crossing punch. Compared to All-Star Battle, most of his speech is removed in favor of several grunts.
Here comes my Ripple! (With Zeppeli)

+

ON GROUND
The two of them attack the opponent's head, sequentially with a Ripple-charged Zoom Punch from Jonathan and a Sendo Wave Kick from Zeppeli, before they charge up and run up to the opponent and unleash a double Sendo Ripple Overdrive-enhanced Zoom Punch into them, the two reciting the phrase commonly associated with Overdrives.
Potencial de Uno-en-un-Millón: Jonathan debe llenar completamente su Indicador de Hamon. (200 Puntos)
¡Padre! ¡Otórgame tu último poder!: Jonathan debe conectar un Ataque Poderoso como el tercer paso en un combo aéreo. (200 Puntos)
¡Quiero convertirme en un verdadero caballero!: Jonathan debe ejecutar exitosamente 5 Rompecombos. (300 Puntos)
¡Te golpearé hasta que llores como una niñita!: Jonathan debe alcanzar una cantidad total de golpes de 200. (500 Puntos)
¡Aprópiate de tu miedo!: Jonathan debe Retirar a un enemigo con un Dual Heat Attack. (800 Puntos)
Él es emparejado con DIO en el Torneo de Eyes of Heaven, derrotando a Zeppeli y Koichi Hirose en la primera ronda y a Wamuu y N'Doul en la segunda. En la semifinal, ellos derrotaron a Mariah y Esidisi en la primera ronda, pero fueron eliminados por Kars y Pet Shop en la segunda.
Relaciones en Eyes of Heaven
(La información debajo deriva de un Videojuego no escrito por Araki. Por ende, podría no ser considerado canon.)
Jonathan aparece en Diamond Records como personaje jugable en los modos de juego
Batalla de Acción
y
Batalla Táctica
. Él tiene una variedad de estatuas desbloqueables entre los tipos 'Coraje', 'Unión' y 'Espíritu Luchador', variando desde 3 estrellas hasta 6 estrellas.
Los movimientos de Jonathan en ambos modos de juego están constituidos de varios ataques basados en Hamon inspirados por el anime. Como usuario del Hamon, Jonathan tiene ventaja sobre Vampiros, Zombis, y Hombres del Pilar.
Sunlight Yellow Overdrive

Jonathan

Sunlight Yellow Overdrive ver.
Rarity:

Max Power: 1620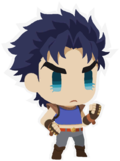 Favorite Gift and Voiced Gift Reactions:

Skill: Sunlight Yellow Overdrive

Reemplaza los paneles centrales con paneles de Jonathan




































Skill Lv 1
# of Replaced Panels:
8
Cooldown:
85




































Skill Lv 2
# of Replaced Panels:
12
Cooldown:
85




































Skill Lv 3
# of Replaced Panels:
12
Cooldown:
80




































Skill Lv 4
# of Replaced Panels:
16
Cooldown:
80




































Skill Lv 5
# of Replaced Panels:
16
Cooldown:
75
Dialogue (Positive)
Ya entiendo...
"El viento del norte hizo a los vikingos,"
¿cierto?
わかりました…
『北風がバイキングをつくった』
ですね?
¡¡Por favor enséñeme
la forma de usar el Hamon!!
¡Sí!
¡Me estoy preparando para pelear!
Tú y yo tenemos algo en común.
Tenemos pasados parecidos.
心が暗く冷えてしまった時
暖かくしてくれたのは
君なのだから
¡Estremeciente corazón!
¡¡Incandescente Calor!!
Dialogue (Neutral)
¡Q-!
¡¿Qué estás haciendo?!
¡¡Este cuchillo
es aquel con el que tú
apuñalaste a mi padre!!
このナイフは
君がとうさんに
突きたてたナイフだァーッ!!
¡No es un plan!
¡¡Es valentía!!
Lo primero que hay que pensar en combate:
"¡Pensar en la perspectiva de tu oponente...!"
¡Estremeciente corazón!
¡¡Incandescente Calor!!
Erina...¡Erina Pendleton!
¡Pero qué bonita es!
エリナ…エリナ・ペンドルトン!
なんてカワイらしいんだろう!
¿P-pero qué ha pasado?
¿¡Q-Quién eres tú!?
Dialogue (Negative)
¡No te perdonaré
que la insultes!
¡No deseo entristecer
a tu padre!
勝ったと思うな!おまえは今!
ミスを犯しているんだッ!
これを狙っていたのなら
予想以上の効果を上げたぞッ!
¡Q-!
¡¿Qué estás haciendo?!
¡Es imperdonable!
¡Las manos de Dio! ...Tienen malicia.
¡¡Siento malicia corriendo por sus venas!!
ディオの手!…悪意がある
悪意の血液の流れを感じる!!
¿¡Por qué tienes
la Máscara de Piedra!?
Jonathan aparece como un personaje de apoyo y ayuda en el juego. Su apoyo de 2 Koma lo invoca, luego del cual da un cabezazo a su objetivo y le efectúa un combo. Su apoyo de 3 Koma involucra a él arrojando rosas con Hamon al enemigo, atacándole con LUCK & PLUCK y efectuándole un Scarlet Overdrive. Su koma de ayuda le da al personaje 1 barra SP adicional tras ser derrotado.
Él sirve como un incremento aliado con DIO, remedando su clásica línea "¡Es inútil!" y Mutou Kazuki (de Busou Renkin), diciendo que siente el poder del sol en Kazuki (ya que necesitan la luz del sol en algunos de sus ataques, el Hamon de Jonathan y la lanza de Kazuki).
Jonathan es un personaje jugable junto con Joseph Joestar (Parte 2), ambos representando a la franquicia JoJo's Bizarre Adventure en el juego.
El esquema cromático de Jonathan es el mismo que el de la serie Anime de TV. Tanto Jonathan como Seiya (de la franquicia SAINT SEIYA) comparten la misma música de batalla, llamada "Brave Soldiers" (Valientes Soldados).
También hace breves apariciones en la secuencia de apertura del juego, pues es visto junto a otros héroes de Jump, y en algún punto mira a Gintoki haciendo carrera contra Ryotsu (de la franquicia KOCHI-KAME).
Los movimientos de Jonathan consisten de la mayoría de sus ataques presentados en la Parte 1. Su estilo de jugabilidad principal involucra combos regulares terminando con su Sunlight Yellow Overdrive (puede ser extendido por más daño hasta los 49 golpes), su Zoom Punch como ataque de largo alcance, una variación a distancia de su Scarlet Overdrive en el suelo y su espada Luck & Pluck regresa como un Combo de 3 Golpes que puede ser usado para infligir grandes cantidades de daño. Aparte de ataques similares a sus movimientos de All-Star Battle, los nuevos movimientos de Jonathan incluyen a él usando una Lanza (la misma que usó en la Mansión Joestar para combatir a Dio) y un ataque de embestida que continúa hasta que golpee a su objetivo con su hombro.
Su movimiento especial desata una versión más fuerte del Sunlight Yellow Overdrive, siguiendo con un Scarlet Overdrive que lanza lejos al oponente. Algunas de sus famosas poses JOJO aparecen como burlas y poses de intro/victoria.
Sunlight Yellow Overdrive

(Keep tapping to strike repeatedly)
Sendo Ripple Overdrive

+

Luck and Pluck

+

(After hitting the target, press

to fire up to 3 extra shots)
Final Ripple
Press

during a Victory Burst
Weak Attack



Strong Attack

(Hold to charge)

Area Attack

+

Guard Break

+

Weak Combo


/



Strong Combo


/



Dash

Dash Attack

while dashing
Sidestep

+

/

+ /

+

/

+
Jump

Double Jump

while jumping
Jump Attack

while jumping
Stamina Charge

+

Guarding

Perfect Guard
Press

just before sustaining an attack
Quick Recovery

or

at the moment of landing after being thrown into the air or knocked off your feet
Victory Burst

when voltage gauge is full
Call for Support

Tag-Team Attack

to an opponent that has been sent into the air by an ally
Tag-Team Volley

to an opponent that has been knocked down into the ground after an ally's successful combination attack
Tag-Team Melee
Both players press

simultaneously to attack an opponent that has been knocked down by a successful cross chain
El rol de Jonathan durante el Modo Historia está limitado a apariciones rápidas. Durante el arco del equipo de Toriko, el jugador toma control del dúo de Gintoki Sakata (de la franquicia GINTAMA) y Boa Hancock (de la franquicia ONE PIECE), pues ambos afirman haber visto a una persona caminando a través el agua hacia su dirección. Se revela que la persona es Jonathan, quien desafía al equipo del jugador, diciendo que está entrenando para derrotar a Dio (posiblemente una referencia al entrenamiento de Hamon de Zeppeli, cuando siguieron a Poco corriendo sobre el agua). Tras la batalla, Jonathan parece sorprendido de que perdió el encuentro y dice que aún necesita más entrenamiento, y luego se introduce diciendo "Mi nombre es Jonathan....Jonathan Joestar."
A pesar de no tener ninguna conversación o interacción específica con Joseph, ambos aparecen como rivales en uno de los videos promocionales para la versión occidental del juego, J-Stars Victory Vs +, con su batalla titulada "¡CUANDO EL NIETO CONOCE A SU ABUELO!". Extrañamente, el tráiler plantea la pregunta "¿SERÁ LA LLAMA DE LA JUVENTUD MÁS FUERTE QUE LA SABIDURÍA DE LA EDAD?", la cual erróneamente implica que Jonathan, como el abuelo de Joseph, es mucho mayor que él, y además vivo para cuando Joseph tiene 18 años de edad, en vez de que su encarnación del juego sea solo dos años mayor que su nieto pues los dos son de periodos temporales completamente distintos.
Jonathan aparece en la intro del juego, junto con Jotaro, Josuke y Joseph (Parte 3) como parte de una imagen de los Joestar previos representando como Giorno heredó su "alma dorada." Jonathan originalmente no apareció en esta escena en el manga.
Esta pequeña aparición marca el debut de Jonathan en el medio de los videojuegos.
Jonathan es uno de los primeros 3 personajes disponibles que el jugador debe escoger para que sea su primer líder del equipo (junto a Joseph y Jotaro). Varias de las apariciones de Jonathan salen como Golpeamedallas.
Jonathan is one of the first 3 available characters the player must choose to be his first team leader (alongside Joseph and Jotaro). Several of Jonathan's appearances appear as Medal Strikers.
El movimiento FINAL de Jonathan consiste de una animación en donde ataca a su enemigo con varios golpes en un segundo mientras que su habilidad Líder Nivel Especial 3 lo hace usar el Scarlet Overdrive con todos los enemigos en el campo.