Fałszywy Kapitan Tennille
Jump to navigation
Jump to search
"
Zgadza się, nie jestem prawdziwym kapitanem! Pozbyłem się prawdziwego kapitana i zostawiłem go odpoczywającego na dnie oceanu!
"
Fałszywy Kapitan Tennille (偽キャプテン・テニール, Nise Kyaputen Tenīru) jest nienazwanym trzeciorzędnym antagonistą występującym w trzeciej części serii JoJo's Bizarre Adventure, Stardust Crusaders, a konkretnie w fabule "Dark Blue Moon".
Jest zabójcą wysłanym przez DIO, który walczy z Grupą Joestar na środku oceanu w drodze do Egiptu. Jest użytkownikiem Standa i dzierży Dark Blue Moon.
Wygląd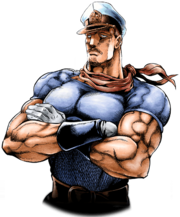 Zabójca pojawia się jako wysoki, muskularny mężczyzna, prawdopodobnie po trzydziestce. Ma dość niepozorny wygląd, ponieważ ma tylko wąsy i łatkę na cechę twarzy i ma zwykłą załogę.
Jego strój jest podobnie zwyczajny, ponieważ nosi prostą koszulę i spodnie, wraz z rękawiczkami, zwykłą chustką zawiązaną wokół szyi i czapką kapitana.
Chociaż prawdziwy kapitan Tennille nigdy nie jest pokazany, można założyć, że oszust był praktycznie identyczny z nim, ponieważ jego ludzie, którzy pracowali przez dziesięć lat na tym samym statku, nawet nie podejrzewali zastąpienia.
Schematy kolorów
Seria znana jest z zmiennych kolorów między mediami, informacje przedstawione poniżej mogą, ale nie muszą być kanoniczne.
Ubiór
(Niebieska koszula z czerwoną chustką, białe spodnie i rękawiczki, biało-czarna czapka ze złotą odznaką.)
Ubiór
(Niebieska koszula, biała chustka, biało-czarna czapka z niebieskim daszkiem i złotą odznaką.)
Ubiór
(Niebieska koszula z czerwoną chustką, białe spodnie, rękawiczki i czapka, biało-granatowa czapka ze złotą odznaką.)
Osobowość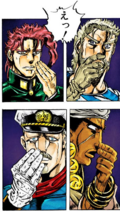 Zabójca jest przede wszystkim metodyczny, początkowo planował oddzielić Grupę Joestar i wyeliminować ich jednego po drugim. Jednak jego plan zostaje natychmiast udaremniony przez dość nudną sztuczkę Jotaro Kujo i natychmiast nurkuje w wodzie, chwytając Anne jako zakładniczkę, aby zwabić grupę. Jest dość pewny umiejętności Dark Blue Moon i wierzy, że jest w stanie zmierzyć się z całą grupą, gdy znajdzie się w wodzie.[2] Oszust jest również dość dokładny w swojej pracy, ponieważ podłożył bomby na swoim statku, aby uniemożliwić Grupie Joestar popłynięcie do Egiptu.[3]
Kiedy przebrany za Tennille'a, wydaje się być dość powściągliwym i surowym osobnikiem. Jego przebranie wydaje się być drobiazgowe, ponieważ nikt na statku tego nie zauważył.
Wydaje się, że lubi ocean, gdy konfrontuje Jotaro z paleniem i gasi papierosa na czapce, pytając, czy Jotaro zamierza wrzucić popiół i papierosa do pięknego oceanu.[4]

Umiejętności
Główny artykuł: Dark Blue Moon
Stand zabójcy to Dark Blue Moon, znacznie niezależny humanoidalny Stand o wielkiej przewadze w wodzie ze względu na jego zdolność do pływania, tworzenia wirów, rzucania ostrymi łuskami jako pocisków i tworzenia skorupiaków, które wysysają siłę wrogów.
Dark Blue Moon
(
ダークブルームーン(暗青の月)
)


Umiejętność
Odprowadzanie Siły Skorupiakami
Pojemność płuc
Pojemność płuc zabójcy trzykrotnie przekracza ludzką średnią, a dzięki praktyce jego osobisty rekord wynosił 6 minut i 12 sekund.[6]
Historia
Tło
Zabójca jest jednym z przedstawicieli Karty Tarota wysłanych przez Enyę, aby zabić grupę Joestar. Widząc, że grupa Joestar zdecydowała się na podróż morską po ataku Gray Fly, zabił prawdziwego kapitana i zajął jego miejsce. Wrzucił kapitana do oceanu i wszedł na statek ze wszystkimi innymi, nikt nie zauważył, że nie jest prawdziwym Tennille. Planował zabić grupę jednen po drugim na statku.[7]
Oszust w pewnym momencie podkłada liczne bomby na statku, aby powstrzymać Jotaro i spółkę przed dotarciem do Egiptu.[8]
Stardust Crusaders (1988)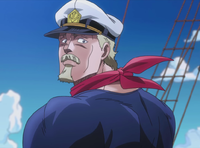 Oszust płynie łodzią, którą Grupa Joestar zabrała na rejs z Hongkongu do Singapuru. Po tym, jak Jotaro i Anne zostają zaatakowani w wodzie przez tajemnicze stworzenie, Jotaro stał się podejrzliwy wobec członków załogi i wierzy, że jeden z nich może być użytkownikiem Standa.
Oszust pojawia się po tym, jak Jotaro wspina się z powrotem na statek, krytykując Anne za skradanie się, a następnie Jotaro za palenie na jego statku. Jotaro szybko oskarża go o bycie użytkownikiem Standa. Chociaż Joseph Joestar upiera się, że Fundacja Speedwagona sprawdziła jego kwalifikacje, Jotaro postanawia dowiedzieć się, czy to on jest winowajcą, blefując na nim: mówi, że wdychanie nawet minimalnej ilości dymu powoduje pojawienie się dużej żyły na nosie użytkownika Standa. Fałszywy kapitan Tennille natychmiast się na to nabiera i ujawnia swoją prawdziwą tożsamość oraz to, że wcześniej zabił prawdziwego kapitana Tennille'a.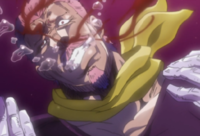 Próbuje wziąć Anne jako zakładniczkę, ale zanim mu się to udaje, zostaje powstrzymany przez Star Platinum.[9] Zabójca jednak wciąga Jotaro pod wodę swoim Standem Dark Blue Moon, gdzie jego Stand może walczyć z pełną mocą. Więzi Jotaro w wirze, próbując pociąć go ostrymi łuskami Dark Blue Moon. Udaje mu się nawet stworzyć coś w rodzaju małego Cirripede, który może wysysać energię ze Standów przeciwników.
Wreszcie, wykorzystując zdolność Star Platinum do rozciągania palca wskazującego i środkowego, Jotaro dźga Stand wroga i rozrywa mu połowę głowy, pokonując go.[10] Jednak bomby oszusta nagle wybuchają na statku, pozostawiając protagonistów na spotkanie z kolejnym wrogiem Standa, Strength. Zabójca jednak przypuszczalnie umiera w morzu.

Rozdziały / Odcinki

Występy w mandze
Rozdziały w kolejności pojawiania się

Występy w anime
Odcinki w kolejności pojawiania się

Występy w nowelach
Rozdziały w kolejności pojawiania się
Cytaty

Quotes
"

Prosimy o powstrzymanie się od palenia na pokładzie. Co zamierzałeś zrobić z popiołem i tyłkiem? Wrzucić je do pięknego oceanu? Jesteś gościem na moim statku i musisz przestrzegać moich zasad... młodzian.

"

"

"Stand"? O czym u licha mówisz?

"

"

Zgadza się, nie jestem prawdziwym kapitanem! Pozbyłem się prawdziwego kapitana i zostawiłem go odpoczywającego na dnie oceanu!

"

"

Słyszałem, że twój Star Platinum jest niesamowicie szybki. Ale prędkość Dark Blue Moon w wodzie jest niezrównana! Dlaczego nie zobaczymy, kto jest szybszy? Mój Stand pływa szybciej niż jakakolwiek ryba na świecie!

"

"

Kłopotliwe wody! Kłamstwa i zdrada! Reprezentuje strach przed nieznanym! Karta księżyca... Dark Blue Moon!

"

"

Chodź za mną! Jeśli chcesz szybkiej, wodnistej śmierci!

"

"

Witamy w świecie Dark Blue Moon... ocean!

"

"

Ty kretynie... Zachowujesz się jak wielki strzał. Pewnie myślisz... "Jak długo ten facet może wytrzymać pod wodą?" "Najdłużej mogę wstrzymać oddech to 2 minuty. Czy on wytrzyma dłużej niż ja?" czy coś w tym rodzaju, założę się. Powiem ci, że moja pojemność płuc jest 3 razy większa niż u normalnej osoby! Po treningu mojego ciała mój osobisty rekord wstrzymywania oddechu wynosi 6 minut i 12 sekund! Czy wytrzymasz tak długo?

"

"

Próbuj pływać! Prawdopodobnie masz trudności z oddychaniem, prawda? Ale arogancki facet taki jak ty musi być torturowany jeszcze bardziej.

"

"

Powiedziałeś, że zamienisz mnie w sashimi?! Ten, który stanie się sashimi, jest...

"

"

Urk! Ack... Glub glub...

"

"

Próbowałeś skoncentrować całą pozostałą moc w palcach... Dlatego udawałeś, że jesteś wykończony! Czy o tym myślałeś?

"
Gry wideo
The events from Dark Blue Moon occur on some different ways from the original story, as the impostor Captain Tennille uses his Stand to attack the party within a water trap found in a building. Also, Anne is completely removed from the game, resulting in the impostor Captain Tennille not using her as a hostage to attack the team.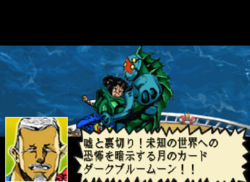 Impostor Tennille or Captain Teneil in the English localization, appears as a Mini Game in Super Story Mode. His fight is simply a "quick time event" mini-game, where the player must dodge all the attacks from the impostor Captain Tennille's Stand. Imposter Capain Tennille's special battle can be unlocked in Book Mode.
Impostor Captain Tennille appears in Diamond Records as a playable character in both the
Action Battle
and
Tactical Battle
game modes. He has one 'Tactical' type 5 star statue. The impostor's moveset in both game modes is comprised of various attacks inspired by the anime, using his stand
Dark Blue Moon
.

Captain Tennille

Seabed-Dragging Hidden Shadow ver.
海底に引きずり込む潜影 ver.
Rarity:

Max Power: 1227
(Lvl 50)
/ 2517
(Lvl 80)
Release Date: November 27, 2020
Favorite Gift and Voiced Gift Reactions:

Skill:
Dark Blue Moon

Replaces random panels with partner's Bubble panels

Skill Lv 1
# of Replaced Groups:
2
Cooldown:
85

Skill Lv 2
# of Replaced Groups:
3
Cooldown:
85

Skill Lv 3
# of Replaced Groups:
3
Cooldown:
75

Skill Lv 4
# of Replaced Groups:
4
Cooldown:
75

Skill Lv 5
# of Replaced Groups:
4
Cooldown:
70
Galeria
Przypisy
Nawigacja w witrynie