Imposteur Capitaine Tennille
Jump to navigation
Jump to search
"
Naturellement, vous allez devoir me suivre dans l'eau !... Et là sur mon terrain, je pourrai vous affronter, même à un contre cinq... Hé hé hé.
"
—Imposteur Capitaine Tenille

L'Imposteur Capitaine Tennille (偽キャプテン・テニール, Nise Kyaputen Tenīru) est un antagoniste mineur au nom inconnu qui apparaît dans la troisième partie de JoJo's Bizarre Adventure, Stardust Crusaders, spécifiquement dans l'arc narratif "Dark Blue Moon".
C'est un assassin à la solde de DIO qui combat Jotaro Kujo au milieu de l'océan alors qu'ils naviguent vers l'Egypte. C'est un manieur de Stand et possède Dark Blue Moon.
Apparence
Tennille est un grand homme musclé qui semble avoir la trentaine. Il a une apparence assez ordinaire, avec des cheveux court, une moustache et un soul patch.
Sa tenue est tout autant ordinaire, vu qu'il porte une chemise de marin rayé, un jean clair, de simple gant et un foulard attaché autour du cou, ainsi qu'un chapeau de capitaine.
Bien que le vrai Capitaine Tennille n'apparaisse pasn on peut supposer qu'il était pratiquement identique à l'imposteur, puisque ses hommes, qui avaient travaillé pendant dix ans sur le même navire, ne soupçonnaient même pas qu'il avait été remplacé.
Palettes
Les palettes changent souvent entre les médias. L'information ci-dessous ne devrait pas être considérée comme canonique.
Tenue
(Chemise bleue avec un mouchoir rouge. Pantalon et gants blancs. Casquette blanche et noire avec un badge doré.)
Tenue
(Chemise bleue, mouchoir blanc. Casquette blanche et noire avec une visière bleue et un badge doré.)
Tenue
(Chemise bleue avec un mouchoir rouge. Pantalon, gants et casquette blancs. Casquette blanche et bleu marine avec un badge doré.)
Personnalité
Tennille semble être très patient, car il avait initialement prévu de séparer les protagonistes et de les tuer un par un. Une fois ses stratagèmes gâchés par Jotaro Kujo, il ne perd pas son calme, affirmant que ce ne sera pas un problème pour lui de les tuer tous à la fois sous l'eau. Il semble également être assez minutieux dans son travail car il a préparé des bombes sur son navire pour empêcher le groupe Joestar de naviguer vers l'Égypte. Il aime aussi deviner ce que pensent ses ennemis. Comme avec la plupart des manieurs de stand, il est très confiant dans la capacité de son stand, avec raison car même Star Platinum avait du mal à combattre Dark Blue Moon dans l'eau.
Il semble également aimer l'océan car il gronde Jotaro après l'avoir vu fumer et écrase la cigarette sur la casquette de Jotaro, demandant si Jotaro allait jeter les cendres et la cigarette dans l'eau, ce qui implique qu'il n'aime pas voir les eaux être pollué. Malgré tout, il s'est débarrassé du vrai corps du capitaine Tennille en le jetant dans l'océan.
Pouvoir et Compétences
Main article: Dark Blue Moon
Le Stand de Tennille is Dark Blue Moon, un stand humanoïde considérablement indépendant et très à l'aise dans l'eau. En effet, sa capacité à la nage est inégalée, il peut créer des tourbillons et lancer ses écailles de rasoir comme des projectiles et peut générer des bernacles qui drainent la force de ses ennemis.
Dark Blue Moon
(
ダークブルームーン(暗青の月)
)


Pouvoir(s)
Nage, bernacles drainant la force
Capacité pulmonaire
Les poumons de Tennille sont trois fois plus performants que ceux d'un homme ordinaires et il peut rester en apnée pendant 6 minute et 12 secondes, une capacité qu'il a acquise avec l'entraînement.
Histoire
Passé
Tennille est l'un des manieurs de Stand envoyés par Enya pour tuer le groupe Joestar. Voyant que le groupe Joestar a décidé de voyager par mer après l'attaque de Gray Fly et à quel point le capitaine du navire lui ressemble, il décide de tuer le capitaine et de prendre sa place. Il jette le capitaine dans l'océan et monte à bord du navire avec tout le monde. Personne ne remarquant qu'il n'est pas le vrai Tennille. Il prévoit de tuer le groupe un par un à l'intérieur du navire.
Stardust Crusaders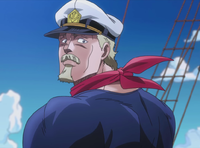 Tennille apparaît sur le bateau que Jotaro Kujo et compagnie ont emprunté pour aller de Hong Kong à Singapour. Après que Jotaro et Anne aient été attaqués dans l'eau par une créature mystérieuse, Jotaro commence à se médier des membres de l'équipage et pense que l'un d'eux pourrait être un manieur de Stand.
Bien que Joseph Joestar insiste sur le fait que la Fondation Speedwagon avait vérifié l'identité de chaque marin, Jotaro décide de découvrir le coupable et bluffe : il dit que respirer même une quantité minimale de fumée fait gonfler une veine sur le nez des manieurs de Stand. L'imposteur Capitaine Tennille tombe aussitôt dans le piège et révèle sa véritable identité en touchant son nez. Découvert, il révèle qu'il avait tué le vrai capitaine Tennille plus tôt dans le port de Hong Kong.
Il essaie de prendre Anne en otage, mais avant d'y parvenir, il est arrêté par Star Platinum. Cependant, Tennille entraîne Jotaro sous l'eau avec son Stand Dark Blue Moon. Dans l'eau, son Stand peut se battre à pleine puissance. Il piège Jotaro dans un vortex, et déploie les écailles acéré comme des rasoirs de Dark Blue Moon dans l'eau. Il parvient même à générer des bernacles qui drainent l'énergie des stands de ses adversaires. Avec celà il parvient à affaiblir Star Platinum.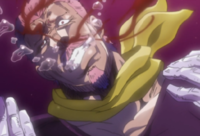 Enfin, en exploitant la capacité de Star Platinum à étirer son index et son majeur, Jotaro poignarde le Stand ennemi et lui déchire la moitié de la tête. L'imposteur Capitaine Tennille est vaincu et s'enfonce dans les profondeurs de l'océan. Cependant, l'imposteur Capitaine Tennille avait caché des bombes sur le navire et fait exploser le navire, laissant les protagonistes à la dérive avant qu'ils ne rencontre leur prochain adversaire,Strength.
Chapitres / Episodes

Apparitions Manga
Apparition dans les chapitres

Apparitions Animé
Apparitions dans les épisodes
Citations

Citations
"

Troublesome waters! Lies and betrayal! It represents fear of the unknown! The card of the moon... Dark Blue Moon

"

"

Welcome to the world of Dark Blue Moon... the ocean!

"
Video Games
The events from Dark Blue Moon occur on some different ways from the original story, as the impostor Captain Tennille uses his Stand to attack the party within a water trap found in a building. Also, Anne is completely removed from the game, resulting in the impostor Captain Tennille not using her as a hostage to attack the team.
Unlike the previous game, the events from Dark Blue Moon appear on the game with nothing removed. It appears as a "quick time event" mini-game in Super Story mode, where the player must dodge all the attacks from the impostor Captain Tennille's Stand. The mini-game can be replayed on Gallery Mode (Oingo and Boingo's book).

Captain Tennille

Seabed-Dragging Hidden Shadow ver.
Rarity:

Favorite Gift and Voiced Gift Reactions:

Skill: Dark Blue Moon

Replaces random panels with partner's Bubble panels

Skill Lv 1
# of Replaced Groups:
2
Cooldown:
85

Skill Lv 2
# of Replaced Groups:
3
Cooldown:
85

Skill Lv 3
# of Replaced Groups:
3
Cooldown:
75

Skill Lv 4
# of Replaced Groups:
4
Cooldown:
75

Skill Lv 5
# of Replaced Groups:
4
Cooldown:
70
Galerie d'Images
Détails
Le vrai nom de l'imposteur n'a jamais été révélé. Même sur des produits dérivés, il n'est encore connu que sous le nom de «imposteur capitaine Tennille».
Références