Harada Tadashi
Jump to navigation
Jump to search
Harada Tadashi (原田 忠, Tadashi Harada) is a Japanese professional hair and makeup artist for Shiseido. He is most known for his 3D visualizations of various anime and manga, including JoJo's Bizarre Adventure, Terra Formars, Gundam, Gurren Lagann, Gin Tama, Lupin the Third, and Pokémon.
History
Born in 1971, Tadashi grew up with his mother who ran a beauty salon. After graduating from highschool in Numata, Gunma, Tadashi joined the Air Self-Defense Force with the hopes of becoming pilot. However, stuck working as an air traffic controller, Tadashi decided to pursue a job in a different career. Tadashi wanted to work someplace closer to where he grew up, and so turned to the beauty industry.
At the age of 22, Tadashi quit the Air Self-Defense Force and entered the Yamano College of Aesthetics. After graduating, he worked in a salon for five years. In March 2000, he graduated from the SABFA (Shiseido Academy of Beauty and Fashion), and joined Shiseido in April 2000. Tadashi was employed as part of the company's Beauty Creation Research Center and had been involved in hair and makeup related actives in New York, Paris, and Toyko.
In April 2012, Tadashi was appointed as one of Shiseido's top hair and makeup artists, and in the April 2016 he was appointed as the principal of SABFA.[1][2]
Tadashi has been a big fan of Araki's works ever since he first read Baoh the Visitor as a kid. His favorite character is Joseph Joestar.[3]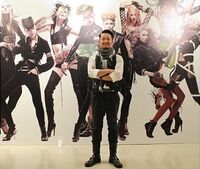 In 2013, Tadashi collaborated with JoJo's Bizarre Adventure to create a JoJo-inspired photoshoot featuring fashion models as live-action homages of characters from the series. It originally featured a total of 15 characters from Part 3 to Part 6, including Giorno, Jolyne, Rohan and Josuke. The photoshoot took place over the course of about two years, and was created with the goal of presenting JoJo in a way that hadn't been seen before through the use of hair, makeup, and fashion. The photoshoot was originally meant to be shown at the Hirohiko Araki JoJo Exhibition 2012, however it was unable to completed in time. Instead it was later shown at Tadashi's own solo hair make-up exhibition that took place Tokyo and Osaka from March 30 to April 2, 2013.[4][5]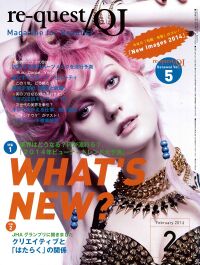 In January 2014, a new photoshoot was created featuring Trish and Doppio from Part 5, Mikitaka and Terunosuke from Part 4, and Sandman from Part 7. The photoshoot was announced in the February 2014 issue of "Re-quest/QJ" magazine, which featured Trish Una on the cover.[6][7]
On January 25, 2017, Tadashi released his book titled "The Complete Guide to Harada Tadashi" which featured various works from his career as a hair and makeup stylist, also including his works featuring JoJo.[8][9]
On July 27, 2017, Tadashi teased the two visuals for the 2018 Guide Pamphlet for the SABFA school in an Instagram post and stated that he had "manifested the stand of hair".[10] In a later post, he put forth the question, "what if women could manifest their own supernatural power to make themselves more beautiful?" He expressed this idea through a 'vision' of hair with a will of its own moving make-up brushes and lipsticks freely, as if it was a Stand. He named the Stand, The Makeup (ザ・メイキャップ, Za Meikyappu), and also gave it stats.[11]
Destructive Power: A - "Beauty doesn't need destructive power, but it's certainly a heartbreaker."
Speed: A - "Analyzes faces at light speed."
Effective Range: C - "Close range feather touch type."
Endurance: A - "The search for beauty is never ending."
Precision: A - "Delicacy to the very micro-level."
Development: A - "Increase your beauty sense until baptized by time."

In 2019, Tadashi was the hair and make-up artist for the music video "Freedom In The Dark" by Tomoyasu Hotei, as he is a frequent collaborator with Hotei. In a twitter post, Tadashi confirmed that Jolyne and Sandman are hidden within the video as the look for two of the models.[12]
Exhibitions
2008: Exhibition Harada Tadashi Zenbu held in Tokyo, Omotesando and Singapore
2009: Exhibition & Hair Make Live Harada Tadashi Zenbu Ver.2.0 held in Osaka and Fukuoka
2009: Exhibition & Hair Make Live Harada Tadashi Zenbu Ver.3.0 held in Nagoya and Sapporo
2011: Exhibition & Hair Make Live BIGINS held in Gunma
2011: Exhibition & Hair Make Live Harada Tadashi Zenbu !! Ver.4.0 held in Gunma
2013: Exhibition & Hair Make Live Harada Tadashi Zenbu !! Ver.5.0 held in Nakameguro, Tokyo
Awards
2001: Award for best hair mode
2003: JHA (Japan Hair Dressing Awards) Best Newcomer Award
2004: JHA (Japan Hair Dressing Awards) Grand Prix
2005: JHA (Japan Hair Dressing Awards) Second Prize Winner
2006: JHA (Japan Hair Dressing Awards) Second Prize Grand Prix
2007: Received JHA (Japan Hair Dressing Awards) Aoyama Art Festival Award
2009: JHA (Japan Hair Dressing Awards) Second Prize Grand Prix
2012: JHA (Japan Hair Dressing Awards) Grand Prix
Commentary
In JOJOmenon, a mook released to commemorate JoJo's Bizarre Adventure's 25th Anniversary in 2012, Tadashi was included with a comment from him talking about what kind of Stand he would like to have and his enjoyment of the series.[3]
Commentary
"
For work, I think it would be good to have a remote control and speed-type Stand that could read the client's needs and present the hair and make-up in an instant, all while handling multiple clients. Something like
Cinderella
or
Atum
, while also being a colony Stand like
Harvest
and
Bad Company
to handle multiple clients. I'm a huge fan and have been reading
JoJo
without missing a single volume since its inception, so I would be happy if I could use that kind of a Stand!
"
Gallery
Harada Tadashi x JoJo
Other
Videos
References